DIRECTOR
ANDREW J. KWAN, B.A., ARCT, FTCL, FCSI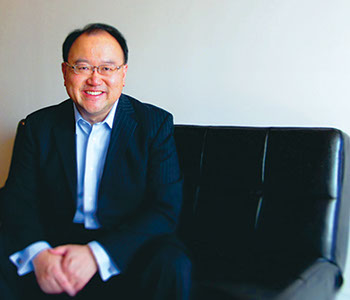 In addition to his agency, Mr. Kwan has presented workshops and professional development seminars on the topics of marketing and organizational development. Internationally, he has given workshops in Ohio, California and at the European Access Symposium in Brussels. In 2015, Andrew was commissioned by Debut Atlantic to author a book, titled – 15 Minutes and Counting: A Guide to Showcasing Successfully. This guide-book for the Debut Atlantic touring artists details the music industry, explaining showcasing, and providing helpful tips to emerging artists before they present themselves at industry conference. He has also advised and contributed to The Canada Council's online publication artsontour.ca, a guide for touring artists and concert presenters and has since been involved in workshops on this subject across the country.
Mr. Kwan has been invited to give talks at provincial conferences, professional workshops and at various universities. He has frequently served as advisor and juror for various arts councils such as the Canada Council for the Arts, BC Touring Council, Ontario Arts Council to name a few. He has also served as a juror for numerous competitions including Stepping Stone Tremplin Competition, Canadian Music Competition, Eckhardt-Gramatté Music Competition, Kiwanis competitions, The Glenn Gould School Concerto Competition, and for various scholarships and awards.
Since 1996, Mr. Kwan has been on faculty at The Glenn Gould School where he offers courses on career management and communications. He is also a graduate lecturer at the University of Toronto's Faculty of Music. In 2012, he was an advisor on developing the Music Industry Arts and Performance Program at Toronto's Centennial College, and served as Chair for this program's Advisory Committee from 2012-2017. Andrew is also on the board of Prairie Debut, Axis Music, and serves as a mentor to CAPACOA's The Succession Plan.
Mr. Kwan holds a B.A. in Economics, as well as a Non-Profit Management & Leadership Diploma both from York University. He also completed his Fellowship from the Canadian Securities Institute. In music, he holds an ARCT in Piano Performance from The Royal Conservatory and the designations of LTCL and FTCL from Trinity College, London, England.
Mr. Kwan was awarded CAPACOA's Agent of the Year (2014), Ontario Contact's Agent of the Year (2013) and BC touring Council Agent of the Year (2011).
​
ARTIST REPRESENTATIVE
SUSAN DURNIN, B MUS, Art. Dip.
Since 2015, Ms. Durnin has been working with presenters and AKAM artists. As an administrator, she completed an internship with the Canadian Opera Company, working for the Free Concert Series in the Richard Bradshaw Amphitheatre. Susan was also the Communications Director of the inaugural 2015 Bassoonapalooza, a one-day bassoon festival held in Toronto.
Susan also administered and performed on the Excelsior Ensemble Chamber Series that ran for two seasons in Toronto's Mount Pleasant neighbourhood. This series was a musicians' collective that featured an array of instrumentation highlighting the woodwinds.
As a musician, she is an active bassoonist involved in performances around Southern Ontario. Susan has performed in the sections of many orchestras including Thunder Bay Symphony Orchestra, Windsor Symphony Orchestra, and Kitchener-Waterloo Symphony Orchestra.
Susan is currently working towards a Certificate in Nonprofit & Voluntary Sector Management through Ryerson University's Chang School of Continuing Education. She earned her Bachelor of Music in Bassoon Performance from the University of Manitoba studying with Allen Harrington. She then moved to Toronto and completed her Artist Diploma from The Glenn Gould School of The Royal Conservatory in the studios of Kathleen McLean and Nadina Mackie Jackson. She continues the tradition of bassoon teaching with a studio of her own as well as teaching at the prestigious arts high school, Cardinal Carter Academy.
During her free time, she is involved with a quirky electric bassoon quartet, who can be found performing pop tunes across Toronto. Ms. Durnin brings a unique perspective to the art of managing artists, and she looks forward to the continued relationships that come from working in this industry. A native of Winnipeg, Manitoba, Susan now calls Toronto home.
​
LINKS
ACADEMIC AFFILIATIONS
The Glenn Gould School
University of Toronto – Faculty of Music
GOVERNMENT FUNDING
The Canada Council for the Arts